The best winter getaways from Sydney


When it comes to winter getaways, Australia – namely, NSW – doesn't always get the best rap. We get a lot of hype for our marvellous beaches and fairweather fun, but our backyard isn't only worth frolicking around in the summertime. Dare we say, for many NSW holiday locations, winter is the merino-wool hat that they actually wear best.
If you're ready to venture out of the Big Smoke in search of glorious winter sunshine, brisk mountain air or a crackling hearth in a country pub, this guide to some of our favourite cold-weather NSW getaways may be just the thing for you.
So, without further ado, here are our picks of the best winter getaways in NSW to book now.
Read on and be warned: they are chillingly good.
Want more of the chilly stuff? Here are Nine things all Sydneysiders know are true about winter, but if you're hitting the slopes: Skiing 101: Everything to know before you go. Staying in Sydney for the cold months? These are our picks of the best pubs and bars with fireplaces in Sydney.
The best winter getaways from Sydney
Photograph: Destination NSW
Snowy Mountains
The Snowy Mountains are the closest thing to a quaint, Norman Rockwell-style winter wonderland you'll find this side of the equator. Snuggled on the border where NSW meets the ACT, Thredbo is the perfect place to park on a ski holiday with the whole family – snowball-throwing and gallons of hot chocolate guaranteed. For those up for a challenge, the Village Trail clocks in at 5kms. Once you're done, warm your hands by an open fire at the Lott Café. Our hot tip? In the colder months of June and September, kids ski free with an adult pass. Otherwise, drive against the traffic to end up at Charlotte Pass, the highest resort in the Snowys, which is known for receiving the most consistent snowfall throughout the season. Rest your head at Ecocrackenback, a sprawling luxury accommodation with 18 'habitats', set between Jindabyne and Kosciuszko National Park. Or check out the self-contained lodging at Caves House at Yarrangobilly, nestled within the national park itself.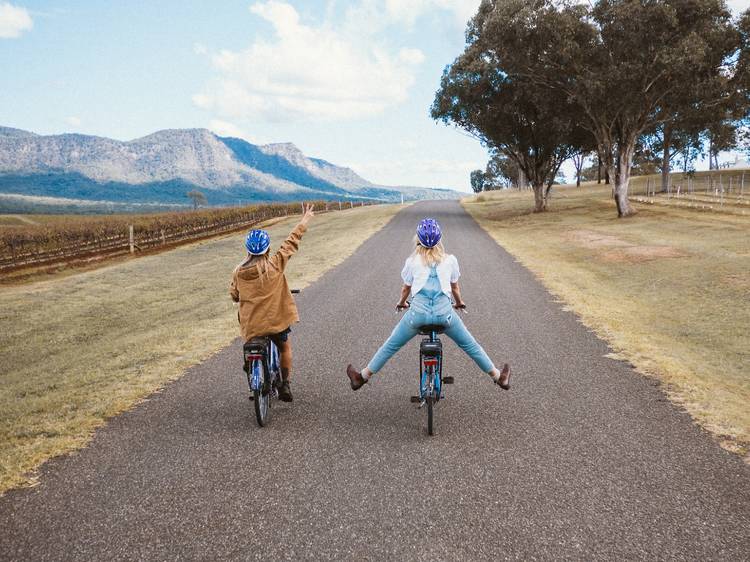 Photograph: Supplied/Melissa Findley
Hunter Valley
Mayhaps NSW's most cherished wine-region, the Hunter is a glorious place for a getaway when the big smoke just don't do it for you no more. The weather is comfortably cool, the grapevines are blooming, and the fires are roaring – so basically, it's perfect. Only a three-and-a-half-hour drive from Sydney's CBD, the Hunter brings hot air balloon sunrise flights, horse riding, wine tours and bike jaunts through the vineyards – all on top of the myriad quality wine and food options that make this region so very rich with guzzling opportunities. A notable wine mention is the tasting experience at Wine House, where you get the chance to try the Hunter big four – chardonnay, semillon, verdelho and shiraz – and then indulge in their self-service wine bar that comes with its very own wine vending machine. The morning after getting boozy, head to Emerson's for a magnificent breakfast spread, ending your night with a super schmick dinner at Muse, the towering atrium restaurant whose seasonal menu is all you need to get through a hard winter's night. To cap off all the plenty on the Hunter table, May and June bring the Hunter Valley Wine and Food Festival, a time full of local produce, live music and hearty, warming celebrations. Bunker down at the Woods, a bougie retreat on a vineyard whose luxe suites are within easy walking distance of Circa 1876, an award-winning restaurant in a historic cottage.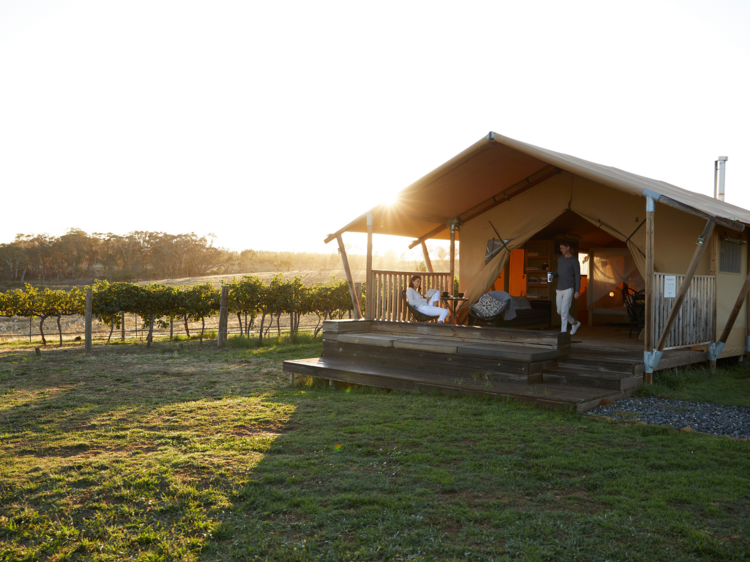 Photograph: Destination NSW
Orange
Cheese, wine, crackling fires and a sprinkling of jazz are all the winter wonders that await you in Orange, the NSW vineyard city of twinkling lights and bracingly brisk days. Winter is often felt pretty keenly in the Central Tablelands, with average temps hitting highs of 11 degrees from August to July. Fortunately, Orange is more than adequately equipped to cosily provide. For all culture vultures, be sure to tune in for their winter jazz festival that will be ringing in from June 10 to June 12, while the famed Orange Farmer's Market is also one not to be missed. Take off on one of numerous wine tours (with an emphasis on the sparkling variety), sipping chilled proseccos in a fire-warmed old shearing shed at See Saw Wines. When it comes to lining your stomach, there are plentiful farm-fresh options on display, with local eateries providing a warm retreat for you to sample local lemon curd, coffee and produce. For a perfect winter brunch, head to the ever-local Groundstone Cafe for a morning-after revival sesh that won't leave you wanting. Bookend your day with a visit to Mr Lim, the pan-Asian eatery and late-night karaoke bar that weds Australian produce with fragrant pan-Asian flavours. Then, when you're in need of a rest, hang your woven hat at the bougie Byng Street Boutique Hotel or glamp amongst the grapevines (in a four-poster bed with a woodfire) at Nashdale Lane.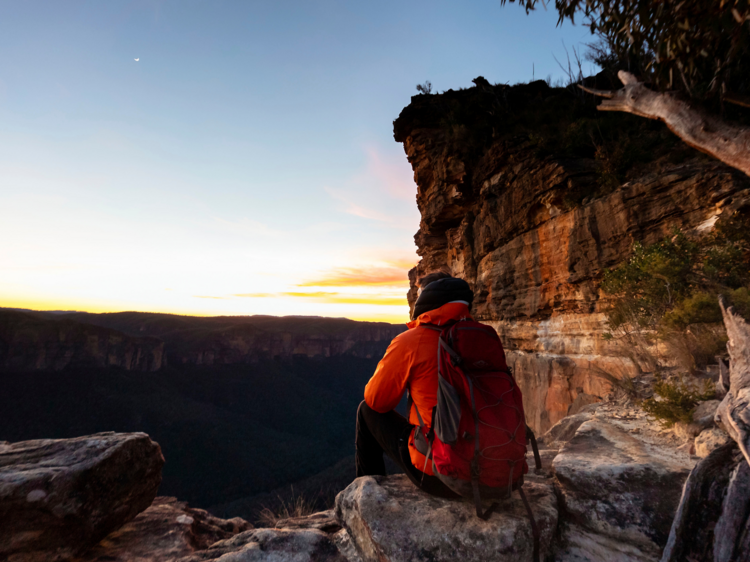 Photograph: Destination NSW
Blue Mountains
It might just be an hour and a half from Sydney, but the air gets palpably crisper and lighter as you drive into NSW's Blue Mountains. The old-world charm of Leura's cherry tree-lined streets sits minutes from the grandeur of famous mountain vistas. You can gaze from a lookout or take on one of the many hikes if you'd rather earn your view – the Echo Point walk is a good pick for novices, or the Fern Bower circuit will take you past dizzying cliffs and end in a pretty waterfall. Feeling peckish? Pack a picnic to nibble on by the water in the Everglades Garden, or pick up warm, hearty pies from the Bakehouse on Wentworth – and brace yourself, they're country portions. For a hint of old-world grandeur, spend a night at the historic Hydro Majestic hotel – the Yulefest event in July is the Hallmark card white Christmas we of the Southern Hemisphere can only dream of. Or, for more of a modern luxe vibe, try the Spicers Sangoma Resort.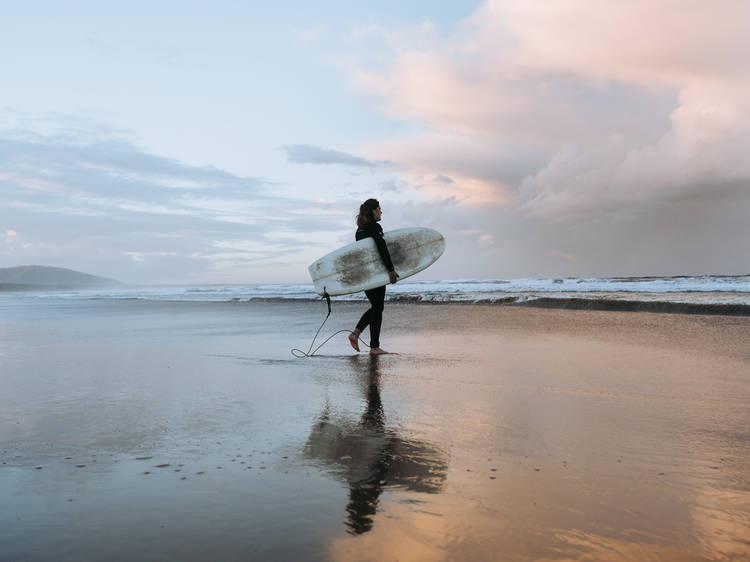 Photograph: Destination NSW
Berry
Only a two-hour drive from Sydney's CBD, Berry is the quintessential country experience that no winter holiday is complete without. Situated on the South Coast, this village pretty much personifies the well-known Danish term of 'hygge' – cosy, comfy and downright delightful. In the winter, the streets get crisp and the skies (generally) stay clear, giving you ample opportunity to explore and taste your way through the region's wineries, including the famous Two Figs Winery, a tiny boutique space with incredible views over the Shoalhaven River. If wine country isn't your thing, explore the village's many antique shops, sink your teeth into succulent pies and quality pastries at Milkwood Bakery (hot tip: go for the perfectly spiced lentil and mushroom pie – it's vegan, but you wouldn't know it), dine on a three-course chef's menu celebrating local produce at South on Albany, and then drink bounteous warming pints into the wee hours at the classic Aussie Berry Southern Hotel pub. For accommodation, choose from a selection of romantically rustic bed and breakfasts, holiday houses, or for the more luxurious-minded, go to Mt Hay, an opulent, light-filled collection of suites (with a spa) overlooking rolling green hills. For all Sydneysiders who don't have oodles of time, this is the perfect weekender.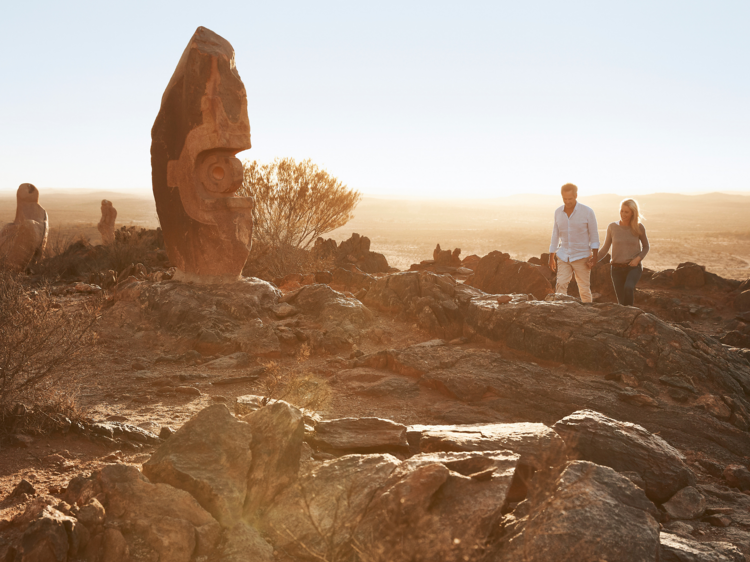 Photograph: Destination NSW
Broken Hill
Ah, the desert city. A land of sweeping plains, iron ore and outback drag queens, Broken Hill is the wintery wild card that NSW probably doesn't talk about enough. The cold season here is, in all truth, the time of year that suits best, with it bringing visitors mild days, brazen sunshine and that perfect desert aridness that keeps your hair looking fabulous from dawn til dusk (you heard that one here first). Despite only being accessible by air from Sydney, Broken Hill really is one of NSW's best getaways for those who prefer to pretend winter isn't happening at all (except at night – bring a beanie). Brisk days with average temps of 20 degrees mean that there are plenty of opportunities to get outside, with the Living Desert & Sculpture Symposium a fabulous place to watch a vibrant desert sunset while gazing at intricate rock sculptures hand-carved by artists from all over the world. On top of the many nature walks you can take through the surrounding desert, sighting (if you're lucky) Sturt's Desert Peas on the way, there is also plentiful sumptuousness in town itself, with the iconic Palace Hotel bringing you gourmet pub fare, free-flowin' beers, and, in the Palace's singular case – show-stopping drag performances guaranteed to warm the coldest of hearts. Get a good night of rest at the luxe Red Earth Motel, with its king-sized beds, or take it up a notch at the Imperial Fine Accommodation hotel, whose boutique rooms have been freshly renovated for the 21st century. For bright outback light, millions of stars and a gateway to the desert wonders of Corner Country, Broken Hill is the winter trip for the modern adventurer.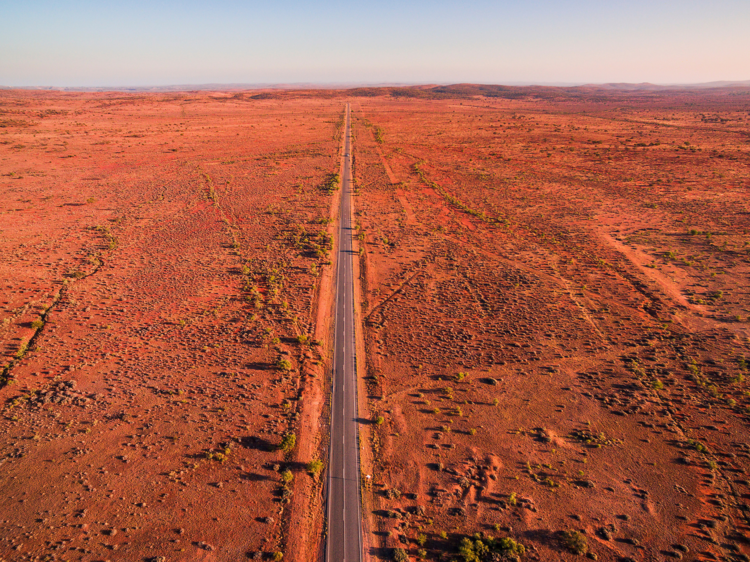 Photograph: Destination NSW
Corner Country
For a winter getaway that is yet to be seen on most tourism Australia maps, the far-flung rolling plains of outback NSW, otherwise known as Corner Country, could be your chosen tribute. Starting off at Broken Hill, follow the new 1,100-kilometre Sturt's Steps week-long loop on either a guided or an independent tour of the wild intricacies of far northwestern NSW. Rolling red dunes, brilliantly green saltbush and a heartrendingly blue sky, this oft-forgotten corner of Australia is rich with millions of stories and one-of-a-kind Aussie outback experiences, with the winter bringing fine days and chilly nights. Taking a 4WD, caravan or hardy tour bus, you can travel into the wild west of the Australian desert dream, visiting the remote towns of Tibooburra and Milparinka, meeting wild and sweet outback characters in all the time-capsule pubs, while simultaneously losing yourself in the untouched desert plains and obscure attractions along the way to the furthest northwestern point of NSW – the Cameron's Corner Store, where you can play tri-state mini-golf and drink a tinnie in Queensland, New South Wales and South Australia all at once. Stay at the more luxurious Mount Gibbs Station (only 45 minutes from Broken Hill), the rustic Packsaddle Roadhouse or the Tibooburra Family Hotel. There are also plentiful camping opportunities along the way, including the historic Fort Grey campground. Just remember to stock up on fresh provisions in Broken Hill before taking off. This is definitely an off-the-grid kind of adventure.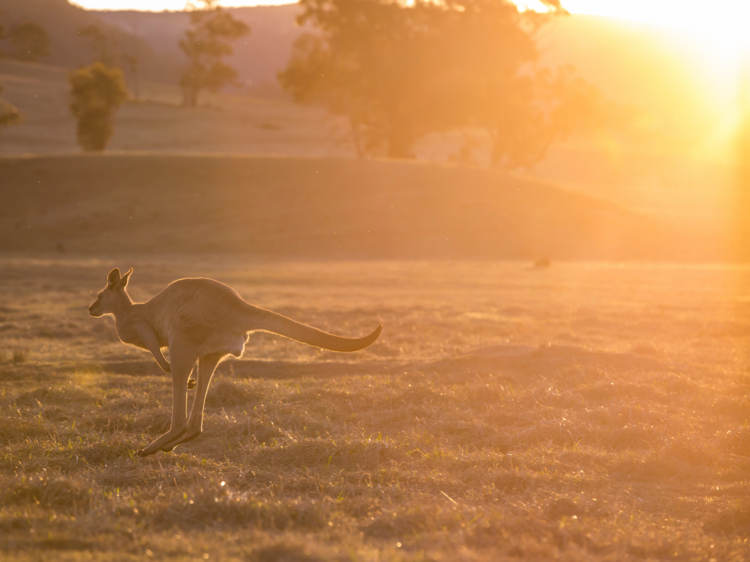 Photograph: Destination NSW
Kangaroo Valley
Now a popular wedding destination for Sydneysiders, the Kangaroo Valley's natural beauty and a regular cast of wildlife makes it worth a visit, even without an embossed invitation. Just a two-hour drive from Sydney, it's got a vibrant, country charm that makes it perfect for cosying up and grazing on local olives from Kangaroo Valley Olives, a sparkling, local shiraz, or for a more low-key local delicacy, Southern Pies' famed cheeseburger pie. For the more adventurous, take yourself for a wintry kayak down Bendeela River, or go for a lakeside bushwalk at the isolated Beehive Point. End your day with a nice cuppa and slice of homemade fudge at the Kangaroo Valley Fudge House, heading to the historic Friendly Inn for a pub feed, fire and beer garden experience emblematic of small-town, country Australia. For resting your head at the end of it all, try a gentile farm experience at the Shed at Broger's End, a beautifully restored, self-sustaining eco-cabin set on a rolling green farm stay. There's a restful winter magic to this place that will probably make you reluctant to ever leave.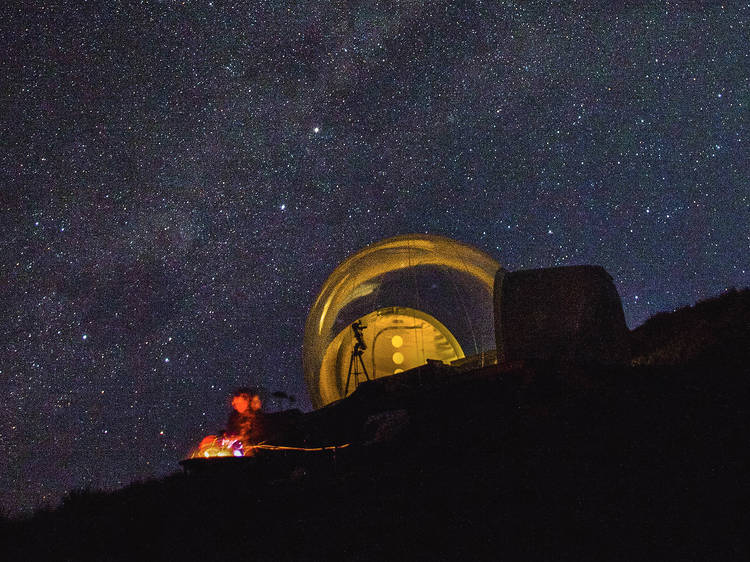 Photograph: Supplied
Capertee Valley
Hemmed in by lush, thick forest, the Capertee Valley is home to the world's second largest canyon. Tramp through the Gardens of Stone national park, gaze over sandstone cliffs, and stop in for a spook at the old ghost town of Glen Davis. The village of Capertee is quaint and has all you'll need for essentials, but the magic of the area is in its lush scenery. The Capertee region is a birdwatcher's paradise – it's been internationally designated an Important Bird Area by the people who decide such things (IBA, for short). When you're ready to rest your head, step into a bubbletent to watch the stars twinkling through your transparent dome-home for the evening – it overlooks the whole valley, and there's a wood-fired hot tub and a fire pit, too. No, not inside the dome, don't worry.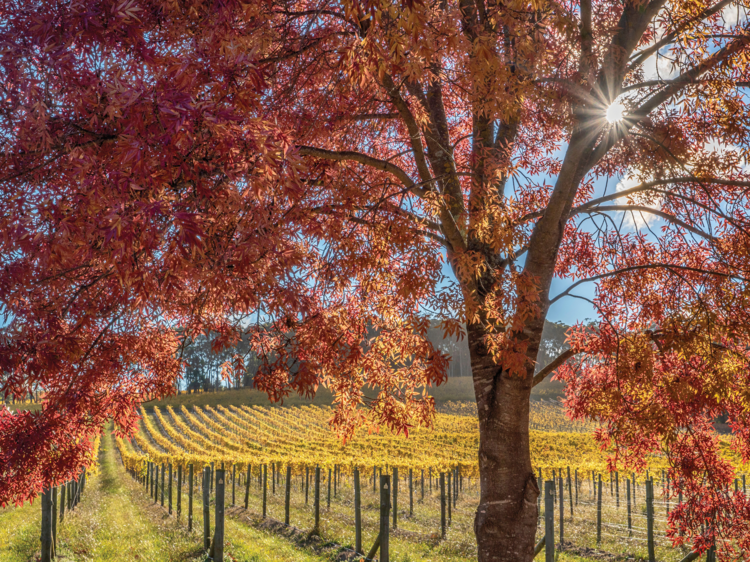 Photograph: Destination NSW
Bowral
With its roaring fireplaces, low-slung roofs and caramel chocolate tarts from Gumnut Patisserie, the Southern Highlands town of Bowral is the perfect foodie's winter getaway. Go rare truffle hunting on winter mornings and forage for mushrooms in the mountains with Wild Food Adventures, or stay seated and let the food come to you at fine dining establishment Birch. Walk it off by strolling along the town's boutiques, gourmet grocers and antique stores – Dirty Jane's is full of trinkets and tchotchkes – or wander down to the Corbett Gardens for a refined, Victorian-era stroll. On your way in or out, stop by nearby Berrima's Berkelouw Book Barn, full of antiquarian books in a beautifully appointed warehouse space – books that are enjoyed best with wine and Gippsland cheeses from the Bendooley Estate's restaurant just next door.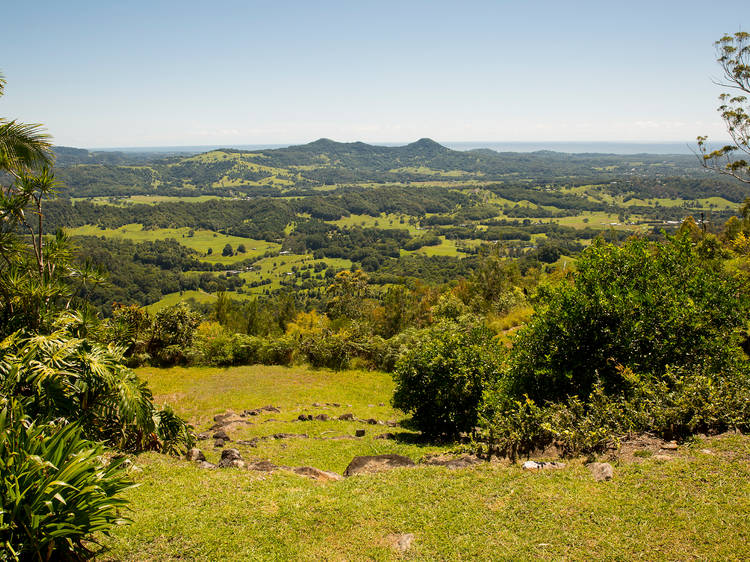 Photograph: Destination NSW
Mullumbimby
If you're not ready for the high energy of Byron Bay, check out the sweet, hinterland town of Mullumbimby – it's also in the Northern Rivers region of NSW, but it's a world away from the well-heeled Sydney emigrés that populate Byron's Wategos Beach. The incense-scented vestiges of the Aquarian energy that drew spiritual seekers to the region in the '80s are still apparent in Mullum's tie-dyed shawls and the distinctive commingling of weed and turmeric kombucha. There's also a quiet swell of polished gourmand cuisine to be found, like quaint deli and restaurant, Harvest in Newrybar. The farmers' markets are the perfect place to get a local's version of the town on weekends, and the Crystal Castle will sort out any and all of your witchy needs – plus, the northerly region enjoys temperate weather all year, so it's a great place to dip your toes in the winter ocean.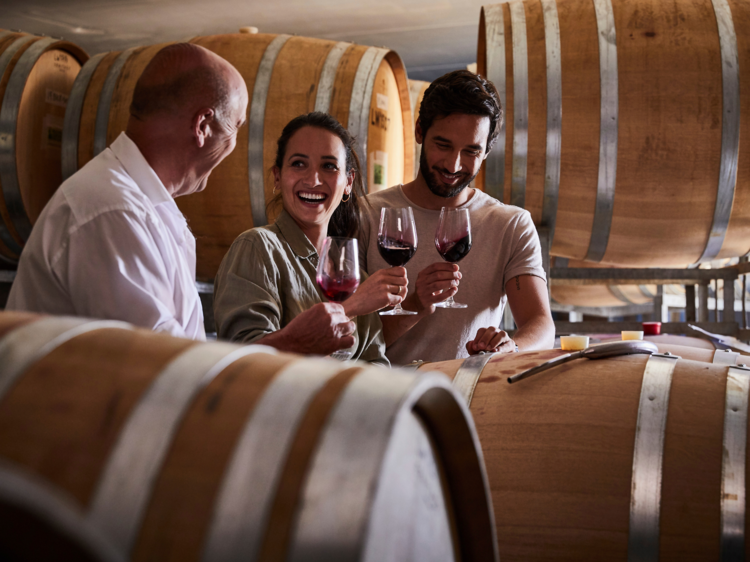 Photograph: Destination NSW
Mudgee
Mudgee may have garnered a reputation as the state's viticultural nerve centre, but this country town's charms don't end with wine. It's true that Mudgee's cellar doors are phenomenal – the organically minded Lowe Wines, and its neigbouring restaurant, the Zin House, are picture-perfect and will turn you into someone who goes on about the provenance of a bottle. But if you can tear your gaze off those gorgeous, dappled reds for a second, the region's natural beauty makes Mudgee more than just a boozy wine trip destination. In winter, the air turns arid, and there's no better time to visit the World Heritage-listed Wollemi National Park, where you can hike, kayak and rock-climb the day away. Sleep easy while communing with nature at eco-glamping site the Sierra Escape – you can toast marshmallows by an open fire at these luxe lodgings packed to the brim (or rather, the tent flap) with amenities.
---
Leave a comment